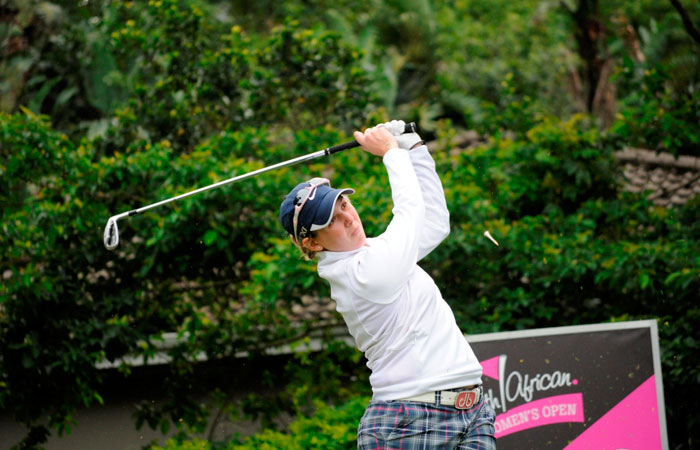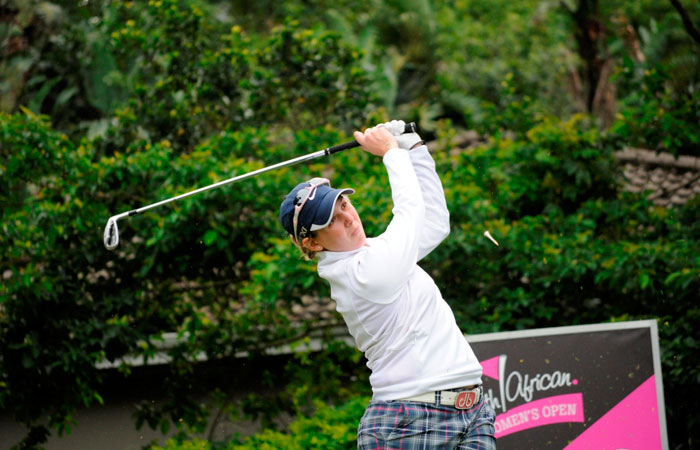 Ashleigh Simon is gearing up to compete in the 2014 Cell C South African Women's Open that will tee off at San Lameer Country Club on the world-renowned KwaZulu-Natal Hibiscus Coast from 16 to 19 October 2014.
South Africa's oldest women's professional golf tournament will feature the country's leading professionals competing against a strong international field representing at least 20 countries for a total purse of €320 000. The tournament will be co-sanctioned by the Ladies European Tour and the Women's Professional Golf Association of South Africa.
10 Things you didn't know about ASHLEIGH SIMON
Q: Star sign?
A: Taurus
Q: My nickname is…
A: Smashley or Ashes
Q: My favourite boardgame is?
A: 30 Seconds
Q: If I hadn't become a pro-golfer, I would probably be…
A: I have absolutely no idea!
Q: Do you have any phobias?
A: Yes, Heights!
Q: Do you have any pets?
A: I have two miniature Maltese Poodles.
Q: Can you multi-task?
A: Yes, just a little though!
Q: Have you ever sung at a Karaoke venue?
A: Yes
Q: Do you prefer texting or calling?
A: Texting
Q: High heels or trainers?
A: Trainers
90 Seconds with ASHLEIGH SIMON
Who/What motivates you?
I motivate myself but also draw motivation from my coach, my boyfriend and family. The desire to perfect my craft also serves as a constant motivator.
What sporting code do you most enjoy watching on telly?
Golf and rugby.
What is your favourite food?
Fillet steak
What is the nicest/best part of being on tour?
Being able to do what I love most for a living and also meeting people of various cultures, backgrounds, nationalities, etc. across the globe.
Which is your best/most successful competition/tournament venue?
It's really difficult to narrow down but if I had to choose I would say there are four highlights that really stand out – my first SA Amateur win at the Strand when I was 14-years old; winning the World Amateur Team Championships in South Africa and my two LET wins in Spain and Portugal.
Who or what do you miss most while on Tour?
Typical home comforts – my bed, family and my dogs.
Which golfer is the personification of dedication and sacrifice?
Ernie Els
SACRIFICES & DEDICATION IN THE WORLD OF PROFESSIONAL GOLF:
As far back as she can remember, Ashleigh Simon has always wanted become a professional golfer but, unlike many who made the transition from amateur to professional ranks, she was fully prepared to make any sacrifices required to make her dream a reality. Ashleigh Simon shares her journey, that entailed unreserved dedication, unflinching passion and numerous sacrifices, from the time she teed off as an amateur in South Africa to become a leading and successful competitor on the LPGA and Ladies European Tour.
From a young age, Ashleigh Simon stood out among her primary school friends because unlike the many who talked about becoming teachers, doctors, lawyers or astronauts, she had already made up her mind that her future lay in professional golf, travelling extensively and plying her trade on the best courses across the globe. A few years later, she went on to become an amateur golfer and a successful one at that.
"It wasn't a difficult decision to make because I've always wanted to play golf. Luckily I had a wonderful support system, solid support and encouragement from my parents and my younger sister who also had to make many sacrifices to help me achieve my goals and realise my dreams."
Her love for the sport was clear to see as was her positive attitude combined with her hard-working and determined nature which meant that she never really felt the impact of the sacrifices she has made along the way.
"All I knew was that I wanted to play golf and that I was prepared to give up certain luxuries or basic social activities just so that I could achieve my goals quicker."
The hard work paid off as "Ashes" took the amateur circuit by storm, en route to becoming the youngest player to win the Ladies' South African Amateur Stroke Play and Match Play double and the first player in 101 years to win the Ladies South African Open titles three times. And, she flew the South African flag high as an amateur competing in the mostly-professional Women's World Cup of Golf three times.
Simon celebrated her 18th Birthday the way she had dreamed by officially becoming a Professional Golfer on 11 May 2007.
"That was one of the best moments in my life, a milestone I had dreamed of achieving since I was 11 years old and I made it happen. It was such an awesome feeling."
One of the keys to her success as an amateur was her ability to maintain a healthy and balanced lifestyle.
"When you first start off, it is very much about adjusting your mind-set and focusing on your goals and if you mould yourself in that way then you can have the best of both worlds. Seven years after turning pro I'm happy to say that when I'm on tour I'm completely focused on golf but when I have time off or get some time to go home, then I completely switch off and take a break from 'work'. I'm also extremely lucky because my boyfriend caddies for me and I have very understanding and supportive friends, which makes life a lot easier especially when you miss out on special occasions and day-to-day events."
Professional golf is hard work and often tests your mental strength and dedication, which is why "Smashley" says it's imperative to never give up!
"You have to grind it out, constantly work hard to better yourself and your game and keep at it even when results are not going your way. When I encounter setbacks, I remind myself of all my accomplishments, believe in myself and my talent and then I work on whatever obstacle it is that I'm facing, with my coach."
Simon lists patience, dedication and self-belief as her best traits and the core ingredients in the recipe of her successful career on the pro circuit.
"It can be quite challenging when you're facing obstacles or results aren't going your way but honestly, there's no better feeling than being rewarded for all your hard work and sacrifices. Looking back, I vividly remember my first professional win on the Ladies European Tour (LET) and when I got my LPGA Tour Card last year through Q'School just months after I had hip surgery."
SA's superstar golfer has big plans for the next five years in her professional and personal life.
"I see myself happily married and playing on the LPGA Tour when I turn 30, with a win under my belt."
The two-time SA Women's Open champion (2004 and 2007) will be among the headliners at the annual co-sanctioned tournament scheduled to take place at the San Lameer Country Club from 16 to 19 October. "I'm really looking forward to playing on home soil and I would really love to win the Cell C SA Women's Open."
San Lameer Country Club:
Have you played at the San Lameer Country Club before?
No I haven't but I have seen the course and have been made aware of the tricky layout.
What do you feel will be the most challenging part of competing at the San Lameer Country Club?
I think the weather, particularly the wind, could be a factor that would require more patience than usual, but if you go in with a good game plan then you should be able to cope with external elements or factors beyond your control.
What do you like and dislike most about this venue?
I've heard nothing but positive reviews and comments about the course so I'm really looking forward to playing at San Lameer as I'm sure all the ladies are!
What are your expectations/targets for the Cell C SA Women's Open?
To complete a hat trick of wins at the SA Women's Open.